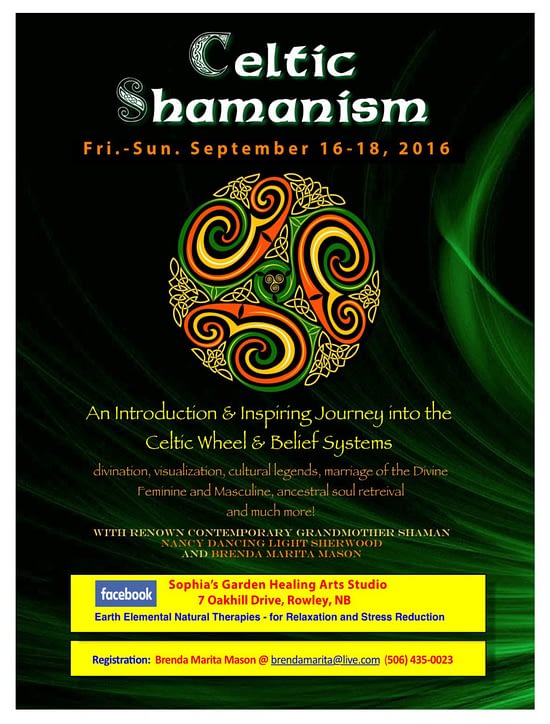 Reserve Your Presence
(limited space of 16 guests)
$ 300.00
An Introduction to Celtic Shamanism

with Renowned Contemporary Grandmother Shaman
Nancy Dancing Light Sherwood
and Brenda Marita Mason
During this 5 session experiential learning weekend, we will refer to and deepen our connection to the elements of the Celtic Wheel.
We will explore the Celtic belief systems by journeying (Immram), divination, visualization, sharing cultural legends, and much more.
We will learn the Celtic teachings about the marriage of the Divine Feminine and Masculine and be given opportunity to retrieve the elements of our Ancestral Souls.
The gatekeepers of this course believe all life is sacred and that it is important to embody this belief by creating rituals and practices that address the imbalances on Earth in our modern times.
Inspire and be inspired by joining the Celtic Wheel.
Where:
Sophia's Garden Healing Arts Studio, 7 Oakhill Drive, Rowley, NB.
We will also be making pilgrimage to other areas of land…a beautiful forest and 2 lovely beaches…so please be prepared for a wee drive and a bit of a hike!
Times:
Session 1: Friday, Sept 16th, 6:30pm – 9:30pm West: Water, The Ancestors
Session 2: Saturday, Sept 17th, 9:00am – 12:00pm North: Earth, The Spiritual Warrior
Session 3: Saturday, Sept 17th, 1:30pm – 4:30pm East: Air, Hearth, Home Hospitality
Session 4: Sunday, Sept 18th, 9:00am – 12:00pm South: Fire, Inspiration and Creativity
Session 5: Sunday, Sept 18th, 1:30pm – 4:30pm Center: Spirit, Sovereignty of the Land
Cost:
$300 (includes drinks, coffee, tea and snacks. Meals and Lodging not included.)
$75 deposit due Sept 5th to reserve your spot.
Contact:
Brenda Marita Mason at brendamarita@live.com , (506) 435-0023, for more information and to register.
Please also see Nancy Dancing Light's article on Celtic Shamanism.
For information regarding lodging and meals contact Tonya Steinborn at thba@live.com , (506) 567-9942